An evening with an award-winning historian, a student storytelling event, and a film festival are all part of TCNJ's programming for Asian American, Native Hawaiian, and Pacific Islander Heritage Month.
These events will help tell a unified story about the history of Asian America and its influences on our contemporary understanding of this identity.
All members of the campus community are invited to join in the following on-campus events: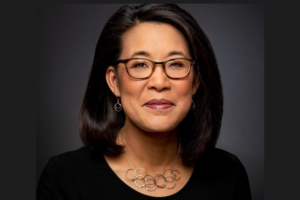 How Come I Didn't Know? The Forgotten History of Asian Americans and Advocacy for Inclusive Education
Thursday, April 27, 7 p.m., Mayo Concert Hall
Award-winning author and historian Erika Lee will present a keynote address about the urgent need for Asian American history in our classrooms, followed by a panel discussion with Lee and Sima Kumar, a New Jersey teacher and education advocate, moderated by Yifeng Hu, associate professor of communication studies.
AAPI Film Festival
Saturday, April 29, 11 a.m.–7 p.m., and Wednesday, May 3, 12:30­–6:30 p.m., Library Auditorium
As part of the AAPI Advocacy Campaign to raise awareness and inform students about AAPI history and contributions, students in Professor Hu's COM 487 course, "Reel Films on Asian American Experiences: Defying Injustice, Invisibility, and Misrepresentation" will present TCNJ's first Asian American Film Festival. See flyer for details and film screening times. Student participants include: Sarah Cladek '23, Ann-Kerry Donaus '23, Odalys Garcia-Lopez '24, Rachel Guloy '24, Weronika Kozlowska '25, Stefanie Lantigua '24, Maya McKelvey '25, Alec McLeester '25, Elizabeth Richardson '23, Breanna Stigler '25, Abhishta Tantry '23, and Rachel Yoo '23.
AAA x ICA Presents: The Third Annual PAA Talks
Tuesday, May 2, 7 p.m., Mayo Concert Hall
Originally created as a response to the 2021 Atlanta Spa Shootings, PAA Talks is a storytelling event in which TCNJ students share their own experiences as Asian Americans. Student participants include Jasmine Sarmiento '23, Vaidehi Valera '24, Hannah Wang '23, Neerjah Upreti '24, Anushka Pradhan Viraj '26, and Nick LoCassio '23.
AAPI Museum Exhibit
Wednesday, May 3, noon, Library Auditorium lobby area
TCNJ students have designed an exhibit to showcase the different members of the AAPI community in popular culture. Most AAPI celebrities are often overseen and not recognized by the American media as much as they should be. Due to the lack of recognition of AAPI celebrities, this event is an entertaining display of famous AAPI's work and an engaging kind of advocacy
Asian/Asian American Student Interview Series
Wednesday, May 3, 12:30 p.m., Library Auditorium
Students conducted interviews of AAPI members of the campus community to expand everyone's knowledge of AAPI culture and experiences and raise awareness on campus. These interviews are filmed and posted on the advocacy campaign Instagram, and are posted as installments to the spring 2023 interview series.
The film festival, museum exhibit, and student interview series were organized by Yifeng Hu and her students as part of the Asian American Pacific Islander (AAPI) Advocacy Campaign to raise awareness and inform students about AAPI history and contributions, combat stereotypes, and promote AAPI visibility.
The AAPI Advocacy Campaign students this semester include Ann-Kerry Donaus '23, Amanda Feldman '23, Brian Hawk '23, Christopher Cerny '23, Rachel Dambrot '23, and Sian Brossard '25.
Events are sponsored in part by the School of the Arts and Communication, the School of Humanities and Social Sciences, the School of Education, and the Division of Inclusive Excellence.
---
— Emily W. Dodd '03